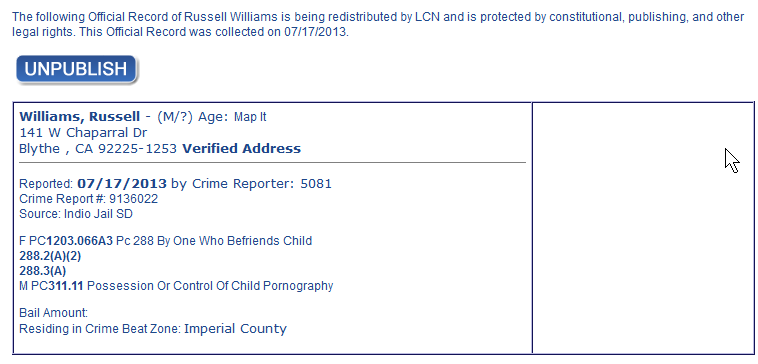 In a press release issued yesterday from the Quartzsite Elementary School Board:
"During an open meeting held on Thursday, July 25, 2013, the Quartzsite Elementary School Governing Board voted to terminate Ehrenberg Elementary School teacher, Russell A. Williams, after finding he was in violation of A.R.S. §15-550 and Governing Board policy GBEB. Mr. Williams was arrested on July 17, 2013, and failed to immediately contact his supervisor to notify her of the arrest."
If you have information regarding Mr. Williams, you may contact the Riverside County District Attorney's Office by calling 951-955-5400 or toll-free at 888-374-1235. You may also contact Superintendent Jacque Price at 928-923-7900 or the La Paz County Sheriff's Office at 928-669-9560. "
The decision followed the July arrest of Russell Arlos Williams for lewd or lascivious acts with a minor under 14 and sending/possessing obscene material. Williams taught 5th and 6th grade students
at Ehrenberg Elementary School, Quartzsite Elementary School District #4, and is a resident of Blythe, CA. He was arrested in Indio, CA. None of the victims listed in the criminal complaint are from the Blythe, CA or Ehrenburg, AZ area. Williams was released on $55,000 bail and is scheduled to appear in court on 9-23-13 at the Larson Justice Center in Indio.
Persons charged with a crime are considered innocent until proven guilty in a court of law.